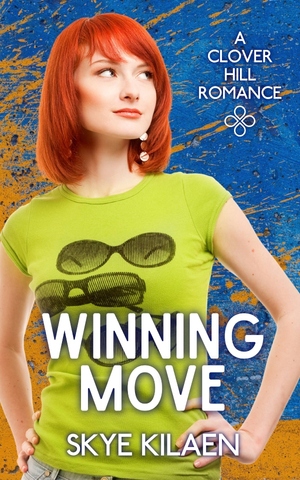 Title: Winning Move
Author: Skye Kilaen
Series/Number: Clover Hill Romance #1
Genre: Romance
Age: Adult
Publication Date: September 13, 2022
Themes: M/F Romance, Bisexual MCs, One Night Stand to Something More, Vacation Fling, 35+, Small Town Romance, Nerds In Love
Synopsis:
Gina has a no-dating policy, but out-of-towner Marek's nerdy charm is tough to resist. A small town bisexual romance.
No dating. That's longtime divorcée Gina Kersey's rule, and she's sticking to it. Comfortably settled in her hometown of Clover Hill, she'd rather play board games than risk getting played herself. For company, she has her beloved if slightly meddlesome Great Aunt… who's somehow made Gina promise to break her rule. She has to ask someone out. On a date. Maybe she could skip town instead?
Outgoing video game translator Marek Haas flew across the country to pick up the sports car of his teenage dreams—to celebrate getting over a breakup from the absolute worst boyfriend, not because he's having a midlife crisis at thirty-five. In his automotive fantasies, though, the car didn't break down in the middle of small-town nowhere.
Marek's not a damsel in distress, but when Gina comes to his rescue on the side of the road, she can't believe her luck. He's handsome, charming, and most importantly, just passing through. Promise, meet loophole! When he turns out to be adorably nerdy as well, they skip drinks at the pub for a fun-filled night in Gina's bed.
The problem? Marek's vintage car needs parts the garage doesn't have, so he's stuck until they're found. Meaning every time Gina turns around, her hot one night stand is still in her town, being all cute and friendly and sometimes taking his shirt off. Even worse, he seems to be falling for Clover Hill… and Gina might be falling for him.
Can Gina overcome her fears and take a chance on a geeky sweetheart who makes her weak at the knees, or will their unforgettable one night stand end up as nothing more than a memory?
A high heat contemporary queer M/F romance novella with two bisexual main characters and a guaranteed HEA.

Tropes: "no dating" rule, vacation fling, one night stand, seasoned romance with characters 35+, small town, nerds in love, bisexual romance.

Detailed content warnings are available in the book's front matter and on the author's website.
Continue reading

"Winning Move – Clover Hill Romance Series Reviews"